Absolute APIs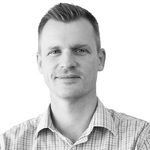 There are many great examples of API usage – but few are as entertaining as this one.
It's a while ago this piece of PR was launched and I am not sure how much fuss it actually created at the time. At least not in the development communities. But this app is actually quite useful for the occasional drink mixer – gone bar tender.
(Note of causion: If you are under age for drinking alcohol, you should stop reading here. Reading on may hurt your eyes).
Revelation. The app in question is called Drinkspiration. It is made by Absolute Vodka and is available for both iOS and Android.
According to the PR:
The NEW Drinkspiration learns a user's taste over time, and provides personalized drink recommendations, just like a great bartender.
To me this is great news. I cannot remember the first of drinks, and definitely none what so ever after a few pints. Now I will have my favorite drinks in my pocket, ready to be shared with the world.
BUT, it is of course not the app itself that caught our interest. It was the underlying service. The Absolute Drinks Database with its corresponding ADDb APi Documentation. Applications currently using the API and the image and video assets include the website absolutedrinks.com and the already mentioned mobile app Drinkspiration.

We are yet to test the API, but RESTassure (pun intended) we will once granted an API key. What could be more fun than to create an innovative service based on the world's third largest alcohol provider?