The 4th Industrial Revolution – the Era of APIs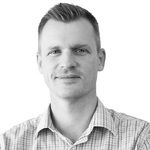 You may have seen it. The clip (below) published on YouTube by the World Economic Forum in July 2016 focusses on the changes that are effecting the world at a speed and gravity never seen before. If you see it only once, you may not think much of it. Its just another voice telling you that the world is heading in the wrong direction. And there is not much you can do about it.
Well, look again. It also claims that technology can help us make significant progress if we take charge and direct our efforts in the right direction.
Technology is a big topic and a lot to digest. As individuals we therefore have to choose to focus on a few aspects of this mega trend, rather than try to take in everything at the same time. For me the technological movement that stands out right now is the emergence of the API Economy. It may be a hit and miss, but the theme is nonetheless worthwhile discussing. The API economy is – according to Gartner – an enabler for turning a business or organization into a platform – and then the platform back into a business.
The API Economy may, in my opinion prove to become the single most important factor in the making of a 4th Industrial Revolution. Connecting services through APIs will disrupt existing business models, it will bring about new business opportunities and it has the potential to change entire value chains. It has to do with how we consume products and services and with whom we relate as we do it. Brands will go bust, middle men will disappear and retail operations will be completely transformed.
How the public - consumers and workers - will act and react when faced with these changes depends on how well we mangage people and technology. Are we able to turn the workforce around to cater for a new reality? Will people still manage technology or will technology control people? What is the value of a pair of hands compared to the efficiency of a robot?
The API-Economy itself is a moving target, but our aim is clear. We are looking to dissect, discuss and redefine the term repeatedly in 2017.
Please feel free to join in!